LaunchBox and Innovation Network
The LaunchBox and Innovation Network is comprised of 21 Penn State-funded innovation spaces, 18 of which are LaunchBoxes offering no-cost coworking space, accelerator programs, legal and IP advice, and expert mentorship. Other spaces offer makerspace and rapid prototyping resources, workforce development programs, and pitch competitions. All innovation spaces provide free or low-cost services to both University and community entrepreneurs.
Penn State's Newest Innovation Space
This six-story, state-of-the-art, multi-use innovation facility is located at 123 S. Burrowes Street in downtown State College. The facility is the home of Happy Valley LaunchBox powered by PNC Bank and offers high-tech digital, wood and metal makerspace as well as coworking space, accelerator programs and events.
Startup Leadership Network
A membership-based group created to match Penn State startups with industry-specific management talent, guidance, and expertise needed to accelerate their startup at each phase of development.
Penn State Small Business Development Center (SBDC)
One of 18 university-based Centers in Pennsylvania, the Penn State SBDC provides entrepreneurs in Centre, Clinton, Lycoming, and Mifflin counties with the education, information, and tools necessary to build successful businesses. The team offers no-cost, confidential, one-on-one consulting, low-cost educational workshops, SBIR grant preparation assistance, and access to funding sources. The Center assists small businesses at any stage, including pre-venture, start-up, and existing small businesses. The unique and highly effective service delivery model leverages the expertise of Penn State students, faculty, and staff, as well as Penn State's partnerships with experienced professionals and leading outside organizations to assist more than 500 businesses annually.
Happy Valley LaunchBox powered by PNC Bank
Located adjacent to University Park campus, Happy Valley LaunchBox powered by PNC Bank offers no-cost startup accelerator programs, business, legal, and intellectual property advice, and coworking space for entrepreneurial teams with scalable business concepts. Serving as the entrepreneurial "information desk" for Happy Valley, LaunchBox hosts speaker series, numerous community startup events, public officials, entrepreneurship classes and workshops. This innovation space also serves as a program development sandbox for all the LaunchBoxes and facilitates the sharing of best practices across the network.
NSF I-Corps Site
The Invent Penn State NSF I-Corps Site provides $3,000 mini-grants, commercialization training, and mentorship opportunities for up to 30 startup teams per year. The commercialization training sessions, offered through I-Corps affiliated bootcamp programs, help inventors begin customer discovery, learn about the commercialization process, network with experienced entrepreneurs, and determine if a market exists for their innovation. Eligible applicants for the I-Corps Site grant program must first be selected for one of the I-Corps affiliated programs or have completed one such program within the past year.
Invent Penn State Venture & IP Conference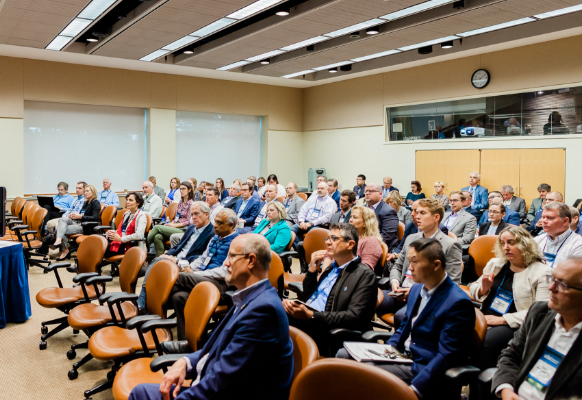 One of the largest tech startup conferences in the Mid-Atlantic, the Invent Penn State Venture & IP (VIP) Conference is a showcase of ground floor investment opportunities in emerging and high-growth markets including IT, Ed Tech, Energy, Advanced Manufacturing, Biotechnology, Healthcare, B2B, and B2C, among others. This event is ideal for entrepreneurs seeking capital, investors sourcing new deals, and influencers who want a first-hand glimpse of cutting-edge innovations at Penn State and beyond. Drawing over 600 attendees, including 70+ startup ventures and 40+ investment firms from across the country, the conference also features educational panels, prominent speakers, and valuable networking.
Penn State Startup Week powered by PNC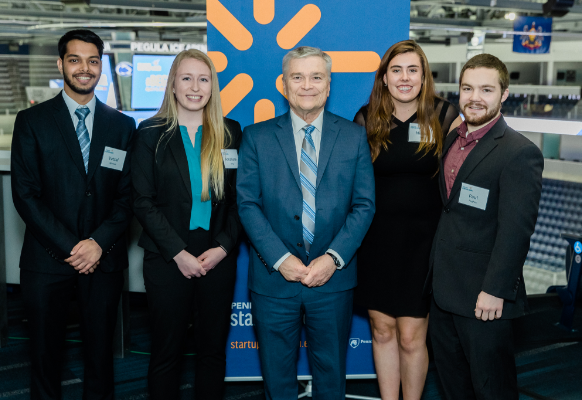 Penn State Startup Week powered by PNC is a University-wide event for students that takes place every spring and brings leading minds in entrepreneurship and innovation to Penn State campuses across the Commonwealth. The weeklong event provides students and alumni an opportunity to gather as a community to discover, explore, experience, and celebrate entrepreneurship and innovation across the University. By connecting students with innovative alumni and industry pioneers who are achieving success in a variety of fields, Penn State Startup Week inspires students gain invaluable experience beyond the classroom and to strive to make an impact.
Global Entrepreneurship Week Penn State
Global Entrepreneurship Week (GEW) Penn State, managed by the Penn State Small Business Development Center (SBDC), partners with local business organizations in our Commonwealth campus communities to provide entrepreneurs educational and experiential opportunities on a variety of relevant topics with global impact. With specialized programming for women, veterans, and minority entrepreneurs, the week is filled with daily presentations, workshops, keynote addresses, and networking opportunities geared specifically to entrepreneurs, local startups, innovators, and anyone interested in thinking outside the box. GEW Penn State partners with Invent Penn State to help further their mission of economic development, job creation, and student career success.